GEM Puerto Rico 2014
.
En esta página puede descargar el informe correspondiente al estudio Global Entrepreneurship Monitor (GEM) Puerto Rico de 2014.
El GEM es el estudio longitudinal más importante a nivel mundial sobre actividad emprendedora. Este proyecto académico que dio inicio en el 1999, cuenta con la participación de 73 países en el ciclo 2014. Puerto Rico también participó en los años 2005, 2007 y 2013. El 2014 es el segundo año de participación consecutiva. En el informe se presenta una gran cantidad de datos que permiten analizar la actividad emprendedora de Puerto Rico en sus distintas fases así como percepciones y actitudes de la población en torno a los emprendedores y la creación y desarrollo de emprendimientos, observar la tendencia con respecto a los datos locales del 2013 y hacer comparaciones con países de diversas regiones geográficas y distintos niveles de desarrollo económico.
Informe Nacional GEM Puerto Rico 2014
.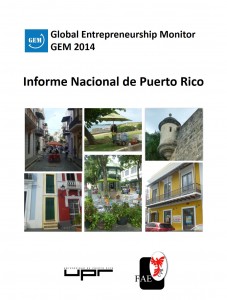 Informe nacional GEM Puerto Rico 2014.pdf
;

.

Most recent data: In 2014, Puerto Rico's early-stage entrepreneurial activity (TEA) rate was 10%, above the average for the innovation-driven (most developed) economies. However, it is the second lowest of the Latin American and Caribbean region. Although TEA increased 2013 – 2014 (8.3% to 10%), the new business ownership rate decreased from 1.8% to 1.3%.
.
.
.
.
Informe Mundial GEM 2014
El informe anual GEM global, ofrece un marco completo de la actividad emprendedora a nivel mundial. A través de un esfuerzo extenso, coordinado, e internacional de colección de data, el GEM provee información e informes comprensivos de alta calidad, que permiten entender a profundidad el fenómeno global que es el emprendimiento.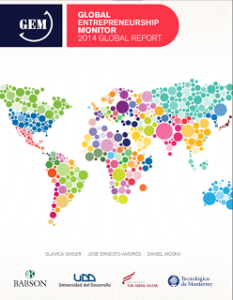 Global Entrepreneurship Monitor (GEM) Global Report 2014 pdf
CLICK HERE TO DOWNLOAD
.
.
.
Auspiciado por: